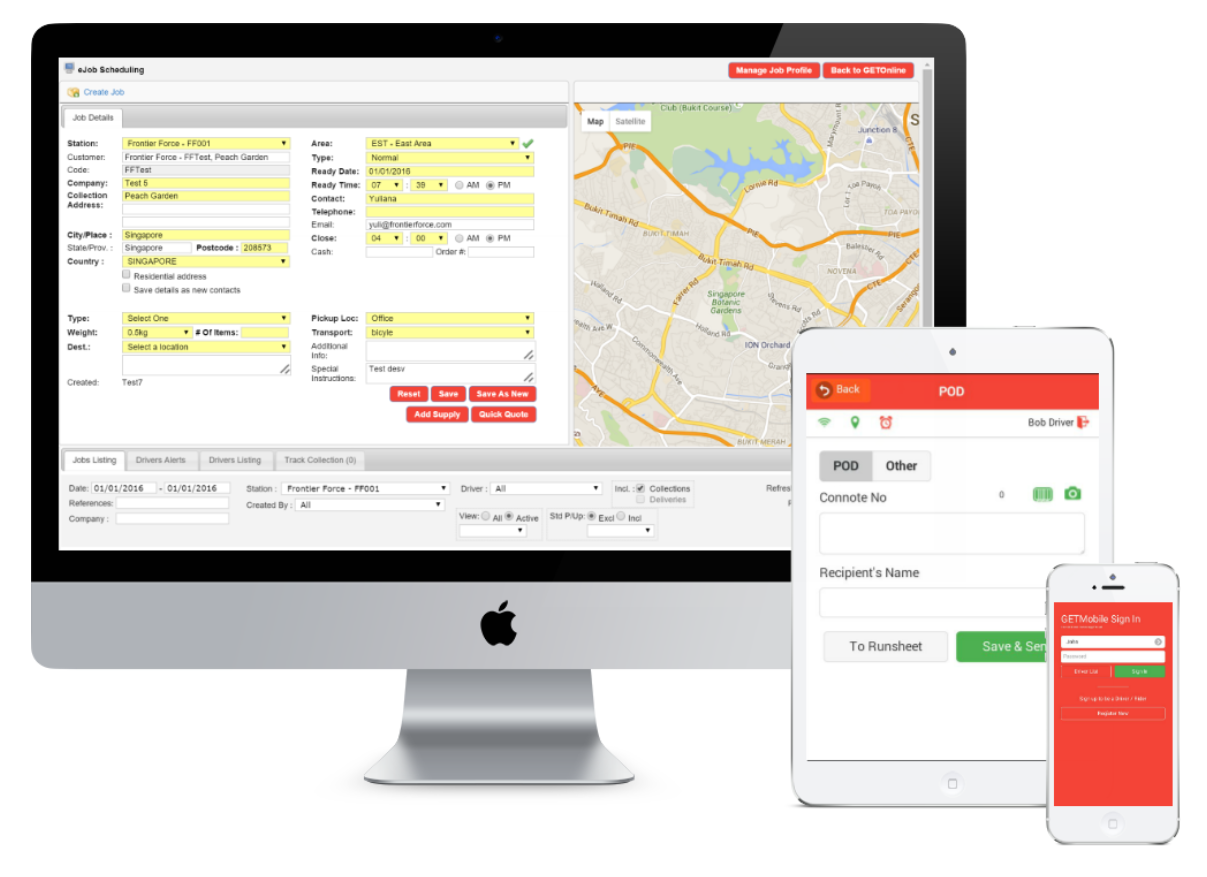 Affordable, Efficient & Smart Logistics Solution
GETMobile provides you with a powerful solution to track parcels at collection and delivery in realtime with any iPhone or Android phone.
Helps you to reduce cost of ownership by using a smartphone-based solution instead of expensive hardware scanners.
Driver collections
Create/generate delivery run sheets
Proof of Delivery with signature capture
Smart delivery route allocation to appropriate drivers
Warnings for urgent jobs/nearing closing time
Initiate phone calls to shipment recipients
SMS to recipients indicating pending delivery

Product Features and Benefits
Makes pickups, deliveries, warehouse scanning operations and many more!

CAPTURE POD SIGNATURE
Capture Proof of Delivery with signature or reasons for non-delivery.

SCAN QR / BARCODES
Using smartphone camera to scan barcode or QR code produced by GET solutions.

JOB DESPATCH
Centralised job despatch system to allocate collection jobs to drivers realtime.

DELIVERY INSTRUCTIONS
Easily communicate change in delivery instructions to drivers via the mobile app.

DRIVER COLLECTIONS
GETMobile supports collections (pick ups), receiving collection jobs from the centralised job despatch system.

SMS RECIPIENTS BEFORE DELIVERY
Send SMS to recipients to inform them of the pending delivery and ETA.

STATISTICS & KPIS
Display statistics & KPIs of deliveries, collections and other warehouse scan events.

MAP NAVIGATION
Integrated navigation via google maps. Route optimisation options are available.

ALERT DRIVERS
Alert drivers with warnings for urgent jobs/nearing closing time.

BULK EVENTS CAPTURING
Scan multiple deliveries / collections and submit all at once.

CASH ON DELIVERY (COD)
Display COD amount in app to inform driver of the cash amount to collect from recipients.

CUSTOM REASONS
Customisable non-delivery reasons, job cancellation or job rejection reasons.